Section #9 - Growing opposition to slavery triggers domestic violence and a schism in America's churches
Interlude: The American Landscape In 1840
1820-1840
"We The People" In 1840 – Overview
The American Experiment Is Thriving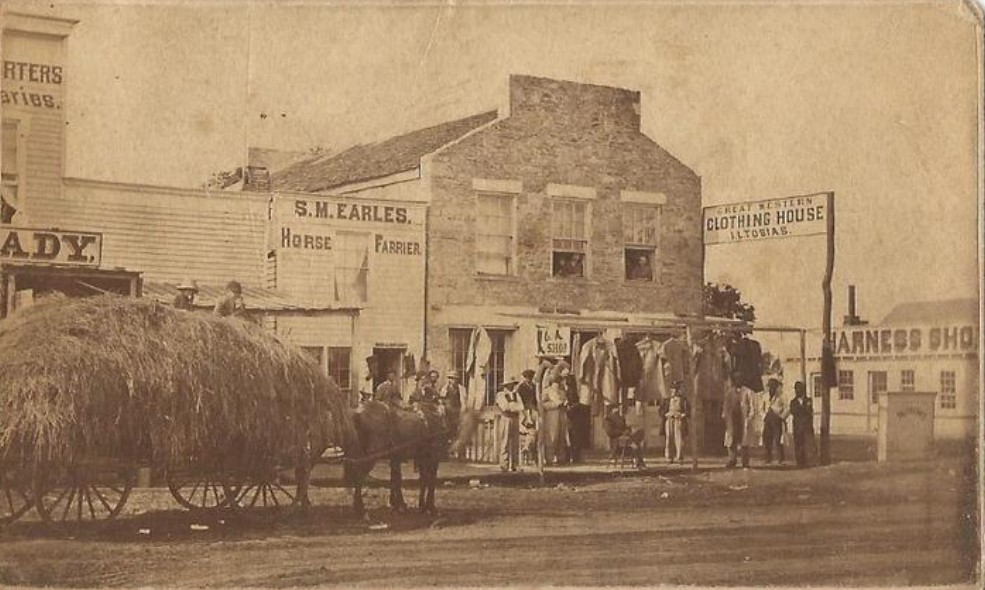 Over the twenty years between 1820 and 1840 the daily lives of most Americans have improved steadily, with the exceptions of those enslaved in the South and the dispossessed native tribes.
The total population has almost doubled and stands at 17 million. The average age is youthful, at twenty-two years old, and life expectancy is just under forty years for white citizens.
Fears of a foreign invasion have been laid to rest, and the Second Great Awakening has prompted many movements to address social problems.
Despite periodic setbacks, the economy continues its upward trajectory.
Many new growth opportunities are fostered by Henry Clay, the long-term Kentucky Senator who promotes what he calls the "American System," aimed at strengthening the nation's infrastructure.
Clay's "system" involves increased tariffs on foreign imports to "protect" U.S. manufacturers, a national bank to help fuel capitalism, and federal spending, especially behind roads, canals and bridges to facilitate transportation of goods and settlers. Despite opposition from Presidents Jackson and Van Buren, at least some of Clay's wishes are realized.
The result is an America more rapidly on the move in every direction.
Primitive cart paths give way to upgraded macadam and plank roads and turnpikes, linking farms to small towns and on to growing urban centers. Steamboats convert a hazardous two month overland journey from Philadelphia to St. Louis into a two week sight-seeing adventure. The locomotive Tom Thumb appears on the scene in 1830 and sparks the nation's love affair with trains and tracks. "Commodore" Cornelius Vanderbilt parlays his interests in steamboats, trains and real estate into a fortune that rivals the tycoon, John Jacob Astor.
By 1840, the great western migration is accelerating.
In addition to the new modes of transportation, it is supported by Jackson's harsh Indian Removal Act of 1830 driving the eastern tribes across the Mississippi, and generous congressional Land Acts enabling new settlers to buy the vacated sites for $1.25 an acre. Fully one in every four Americans reside in the eleven states west of the Appalachian mountain barrier in 1840.
Back east a sharp divide is materializing between the five states below the Mason-Dixon Line and the nine states up north.
The southern states remain rural and pre-industrial in character, according to Jefferson's blueprint. They are dominated by small farmers, 70% of whom work their land without slaves, raising subsistence crops and livestock, along with cotton, tobacco or rice, dependent on their local soil and climate. The 30% who do own slaves tend to be wealthier, although only 10,000 families (less than one percent) across the entire South have the 50 or more slaves required to operate plantations comparable to Monticello.
Meanwhile in the original northeastern states, Clay's American System initiatives are having a profound effect on the economy and on lifestyles. Cities like New York, Philadelphia and Boston begin to resemble their counterparts in Europe. Workshops and factories, "protected" by tariffs, turn out finished goods to be sold in Main Street storefronts and by itinerant countryside peddlers. Along with this commerce comes a host of new city jobs, often more lucrative than agriculture. Although eight in every ten northeasterners still live on farms in 1840, 37% now make their living from this diversified economy.
As more northern jobs rely on brainpower rather than physicality, the value of a formal education grows in importance. Pioneering research in teaching methods, undertaken by Horace Mann, Emma Willard, Catharine Beecher and Mary Lyon, begins to reshape K-12 schooling in Massachusetts and New York. Their work also opens up teaching as a second "suitable career path for women," to go along with nursing, and provokes more early debates about female roles and rights in society.
The growing intellectual class, concentrated around New England's premier universities, is also intent on building America's worldwide reputation in philosophy, science, literature and culture in general. Leading voices here include Ralph Waldo Emerson, Frederick Hedge, Margaret Fuller and Henry David Thoreau, who together comprise the Transcendentalist movement.
Almost all signs point to a prosperous future for the American experiment, one where it can match or surpass any nation abroad.
Apparently nothing can stand in the way of that outcome. Or can it?
Rapid Population Growth Continues
America's Numbers Surpass England And Spain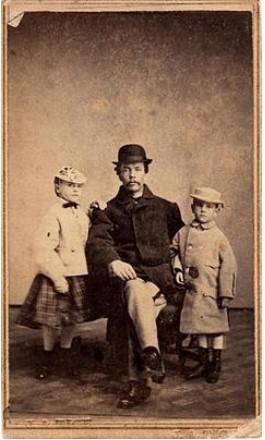 As Martin Van Buren's term ends and America moves into its sixth decade, its population has grown to 17.1 million people.
Total U.S. Population
| | | | | | | |
| --- | --- | --- | --- | --- | --- | --- |
| | 1790 | 1800 | 1810 | 1820 | 1830 | 1840 |
| Total (000) | 3,929 | 5,237 | 7,240 | 9,638 | 12,866 | 17,063 |
| % Change | | +38% | +33% | +34% | +33% | +33% |
As such, it now out-numbers two of the three global powers of Europe, England and Spain.
European Population Trends (MM)
| | | | |
| --- | --- | --- | --- |
| Year | France | England | Spain |
| 1820 | 30.3 | 11.9 | 11.0 |
| 1840 | 34.1 | 15.7 | 14.0 |
The population is split about equally between males and females, and is quite youthful. For example, the average age of males in New York State in 1840 is 22.1 years old.
Population Of Males In New York – 1840
| | | | | | | | | | |
| --- | --- | --- | --- | --- | --- | --- | --- | --- | --- |
| Ages | Total | 0-9 Yrs | 10-19 | 20-29 | 30-39 | 40-49 | 50-59 | 60-69 | 70+ |
| # | 1,206M | 345 | 270 | 231 | 158 | 97 | 55 | 31 | 19 |
| % | 100% | 29% | 23% | 19% | 13% | 8% | 5% | 2% | 1% |
Whites account for 83% of the total population. Blacks make up the other 17%, with nearly nine in ten of them enslaved.
U.S. Population By Race (000)
| | | | |
| --- | --- | --- | --- |
| | 1820 | 1840 | % Chg |
| Whites | 7,867 | 14,190 | +80% |
| Enslaved Blacks | 1,538 | 2,487 | +62 |
| Free Blacks | 233 | 386 | +66 |
| Total | 9,638 | 17,063 | +77 |
Life expectancy is brief by modern standards, and roughly one in three parents experience the loss of a child to disease. White infants born in 1840 live to be 39.5 years on average; for blacks the average is a tragic 23.0 years. Only 8% of all people reach their 50th birthday.
For A Child Born In 1840
| | |
| --- | --- |
| Race | Life Expectancy |
| White | 38.5 years |
| Black | 23.0 |
The Westward Movement Accelerates
Settlers Flock Across The Appalachian Divide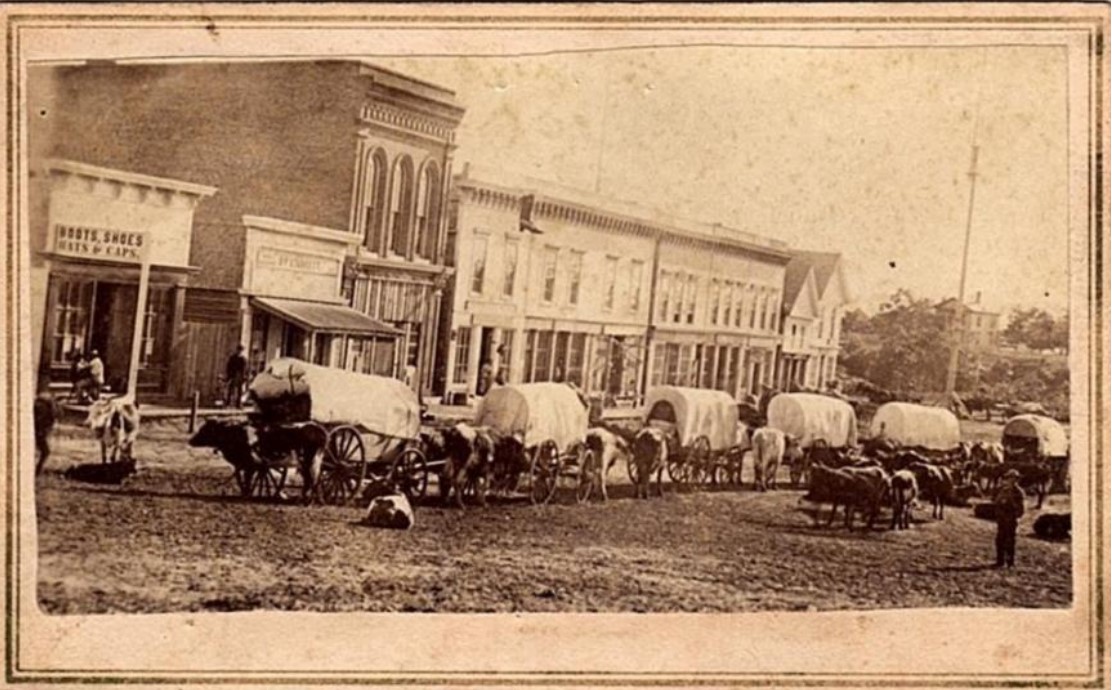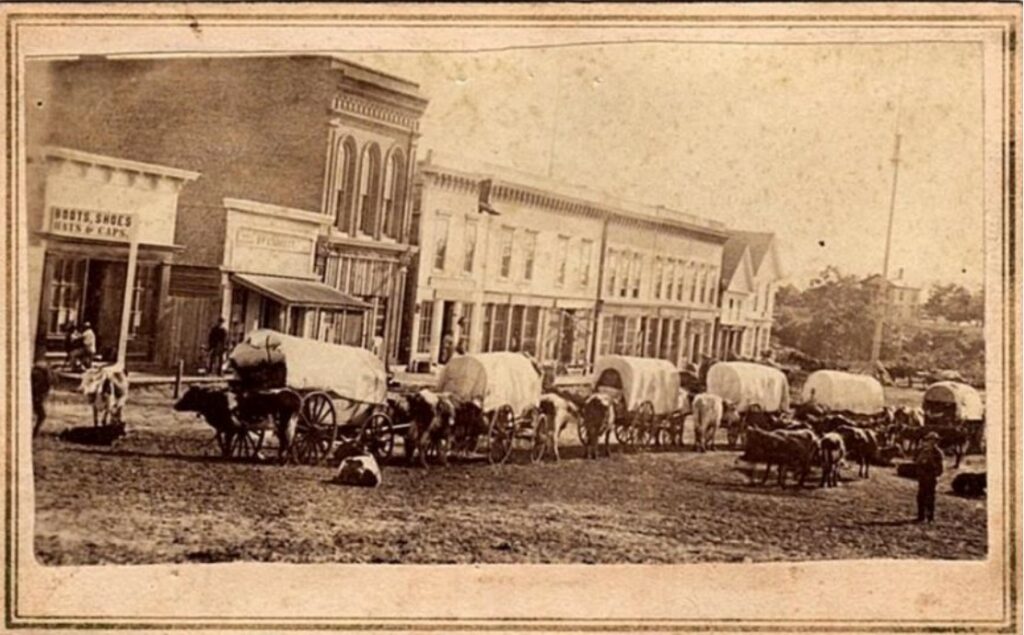 The 1840 Census shows that population gains have been recorded all five regions of the country since 1820 – with the greatest by far in the Northwest and Southwest regions.
U.S. Population Shifts By Region
| | | | |
| --- | --- | --- | --- |
| | 1820 | 1840 | Growth |
| Northeast | 4,360 | 6,761 | 55% |
| Northwest | 793 | 2,968 | 374 |
| Border | 1,467 | 2,191 | 49 |
| Southeast | 2,558 | 3,288 | 29 |
| Southwest | 460 | 1,855 | 403 |
| Total | 9,638 | 17,063 | 77 |
This movement reflects what will soon be called America's Manifest Destiny, the inexorable drive to occupy all of the continental land from the Atlantic to the Pacific coasts.
It begins with the "Indian Removal" policies of Presidents Jackson and Van Buren, driving the so-called "five civilized tribes" from their eastern homes and into the Oklahoma Territory – and replacing them with white settlers.
It will continue later, west of the Mississippi River, as pioneers occupy more of the Louisiana Purchase lands and those subsequently taken in the 1846-47 Mexican War.
But as of 1840, more than one in four Americans are already living west of the Appalachian Mountains, from Ohio to Illinois and Alabama to Louisiana.
Geographical Distribution Of US Population
| | | | |
| --- | --- | --- | --- |
| | 1820 | 1840 | Change |
| The Old East | 87% | 72% | (15 Pts) |
| The New West | 13 | 28 | +15 |
| Total | 100 | 100 | |
Northern "Free States" Grow Faster Than Southern "Slave States"
These shifts in "shares" of the total population will, of course, translate into a reallocation of the roughly 220 seats in the House of Representative, most obviously to the benefit of states in the West.
At the same time, Southern politicians can see that the balance of power in the House is continuing to move away from their Slave States and toward the Free States in the North.
Geographical Distribution Of US Population
| | | | |
| --- | --- | --- | --- |
| | 1820 | 1840 | Change |
| Northern Free States | 53% | 57% | + 4 pts |
| Southern Slave States | 47 | 43 | (4 pts) |
| | 100% | 100% | |
Urbanization Gradually Gains Ground
Home On The Farm Remains Dominant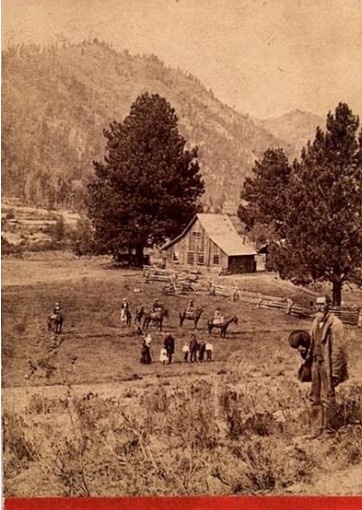 Despite the dramatic population shifts in the prior decades, nine out of ten Americans still make their homes in the countryside on family farms, as of 1840.
"Home" In 1840
| | | |
| --- | --- | --- |
| | Urban | Rural |
| 1820 | 7% | 93% |
| 1830 | 9 | 91 |
| 1840 | 11 | 89 |
This outcome is driven in large part by the abundance of rich agricultural land in the public domain and the government's wish to quickly create new western states and make them an integral part of the Union.
Thus a policy is developed to sell this land off at prices affordable to average white citizens.
The Land Act of 1820 is one example. It allows a settler to buy a minimum plot of 80 acres for as little as $1.25 per acre, or $120 in total. This is not "dirt cheap" at a time when unskilled laborers are earning 75 cents a day, but it is within reach for anyone able to work out an equitable bank mortgage.
In the 1830's, various "Pre-emption Acts" are also passed in congress to accommodate "squatters" who have moved onto public domain property without a formal purchase. As long as they can prove they have "cultivated" the land, they are allowed to subsequently buy it at the $1.25 per acre price.
Of course, actual prices paid for land vary dramatically over time. Location and prospects for production of both subsistence and cash crops make a difference. So too does speculation, where bankers and joint stock corporations see the opportunity to make a fortune by cornering land intended for new cities or pikes or railroads.
But still, as of 1840, the American dream for the vast majority of citizens lies in saving up enough money to purchase and live on and work their own 40-80 acre farms.
Larger Towns And Cities Appear Especially In The Northeast
The one region of the country where city life is beginning to really catch on is the Northeast.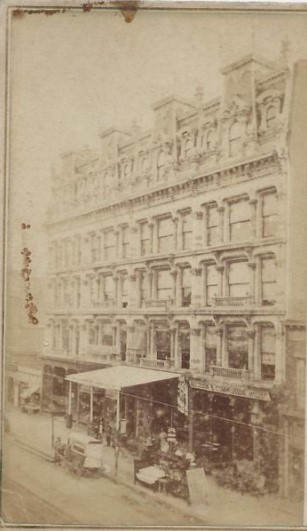 % Of Population That Is Urban
| | | | | |
| --- | --- | --- | --- | --- |
| | Total US | Northeast | South | West |
| 1820 | 7% | 11% | 5% | 2% |
| 1830 | 9 | 14 | 5 | 3 |
| 1840 | 11 | 19 | 7 | 4 |
One of its cities – New York – is on the way to rivalling the great metropolises of Europe. With a population over 300,000 in 1840, it already matches Berlin in size. Only Paris, counting 900,000 inhabitants, and London, with just over 2 million, remain larger.
But other U.S. cities have also grown rapidly since 1820. Most are located in major ports along the Atlantic coast, but there are exceptions. New Orleans' population has grown five-fold over two decades. Cincinnati has flourished along with trade on the Ohio River. Even the inland city of Albany, some 135 miles north of NYC, on the Hudson River, joins the top ten list.
Top Ten Largest Cities In America – 1840
| | | | |
| --- | --- | --- | --- |
| 1820 | Pop. | 1840 | Pop. |
| New York | 123,706 | New York | 312,710 |
| Philadelphia | 63,802 | Baltimore | 102,313 |
| Baltimore | 62,738 | New Orleans | 102,193 |
| Boston | 43,298 | Philadelphia | 93,665 |
| New Orleans | 21,176 | Boston | 93,383 |
| Charleston | 24,780 | Cincinnati | 46,338 |
| No Philadelphia | 19,678 | Brooklyn | 36,233 |
| So Philadelphia | 14,713 | No Philadelphia | 34,474 |
| Washington DC | 13,247 | Albany | 33,721 |
| Salem | 12,731 | Charleston SC | 29,261 |
| Average | 39,987 | Average | 88,429 |
In addition to Cincinnati, eight other cities in the original Northwest Ordinance territory fall into the top 100 on population – while only eleven cities across the entire South make the cut.
Northwest Ordinance Cities In Top 100
| | | |
| --- | --- | --- |
| Rank | City | Pop. |
| 6 | Cincinnati, Ohio | 46,338 |
| 40 | Detroit, MI | 9,102 |
| 67 | Cleveland, Ohio | 6,071 |
| 68 | Dayton, Ohio | 6,067 |
| 70 | Columbus, Ohio | 6,048 |
| 90 | Zanesville, Ohio | 4,766 |
| 92 | Chicago, Illinois | 4,470 |
| 99 | Steubenville, Ohio | 4,274 |
| 100 | New Albany, Indiana | 4,226 |
Sidebar: The Illinois Town Of Galena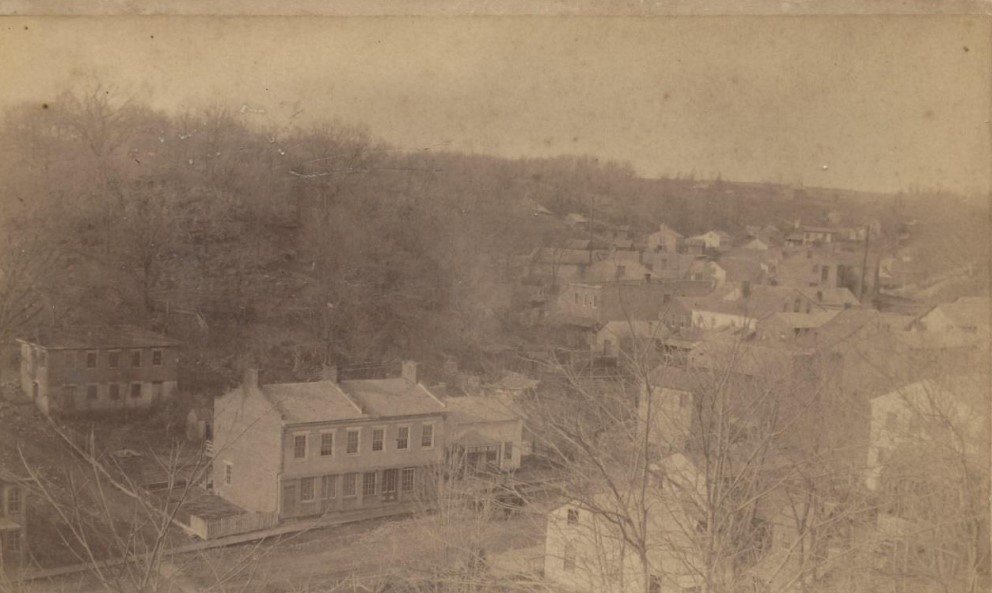 The western state of Illinois joins the Union in 1818 and has a population of some 476,000 in the 1840 Census. Ones of its booming cities at that time is Galena.
This city takes its name from the mineral, "galena," which is mined and converted into lead for use in making paints, ammunition, pipes, burial vault lines, and pewter.
By 1700 both native Sac and Fox tribes and French trappers have discovered and begun to mine the abundant lead deposits in the area. A century later, American pioneers arrive, and a trading post is established in 1819 to support transportation of lead ore down the Galena River and then over to the Mississippi. Once the port of Galena is opened, the city quickly becomes a key stopping off point along the great river, between St. Paul and St. Louis.
By 1840 Galena and surrounding Jo Daviess county are producing 70% of all the lead ore in America.
Agricultural production picks up, and surplus farm goods soon join lead ore on transport boats.
What was a frontier outpost has become an established and flourishing city, with a population of roughly 3,000 people.
The population has all the characteristics of a frontier mining town… with a mixture of peoples. Foreigners from all parts of the world and Americans from every state in the Union are thrown together indiscriminately. The miners get along well together. Some are men of questionable character, and all are adventurers, but in spite of these characteristics… little 'claim jumping' materializes, few infringements are made upon the law, and above all there seems to exist among these people a thorough trust and goodwill toward everyone.
The only laws at first governing this part of the state are contained on a single sheet of foolscap paper posted up in most public places and dealing with disputes over mining claims. But as for ordinary transactions, the people rely among themselves entirely on the law of Honor.
Residents of Galena live in the 550 buildings that have been erected by 1840, with an estimated total value of $1.6 million, or an average of about $3,000 apiece.
They read local newspapers, The Northwest Gazette and Galena Advertiser. They make deposits and loans at a branch of the State Bank of Illinois. There are several churches in town, a fire department, a library of over 8,000 volumes. A temperance society springs up, as the religious reform movement gains support in the region. Entertainment arrives in the form of balls and theater.
For a time, Galena, like its Mississippi River neighbor, Quincy, 250 miles to its south, appears headed to becoming the dominant industrial city in Illinois. But this vision recedes in the late 1840's, when Chicago becomes the central railroad hub for the emerging west.
One enduring business in Galena is the Grant & Perkins tannery and leather goods store on Main St. A co-owner is Jesse Grant, who resides in Ohio and oversees such operations across several cities.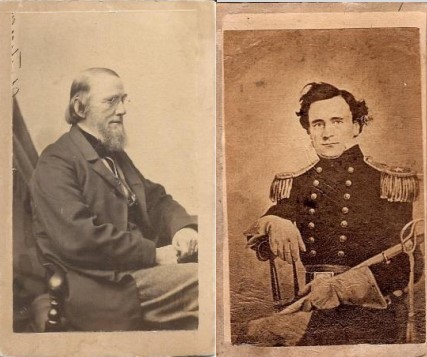 In 1854, Jesse will offer a job in the Galena shop to his son, Ulysses, who has just resigned from a career in the military. But Ulysses initially turns down the offer to make his own way, first as a farmer and then as a bill collector. By 1860, however, these attempts have failed, and he is desperate for work to provide for himself, his wife, and their four children.
Thus former Captain U.S. Grant is working in his father's leather store in Galena on April 15, 1861, when Abraham Lincoln calls for 75,000 volunteers to suppress a rebellion. In time, the town once famous for lead, will be remembered for its favorite son.
Major Improvements Are Made In Infrastructure And Mobility
Superior Roads Have Been Built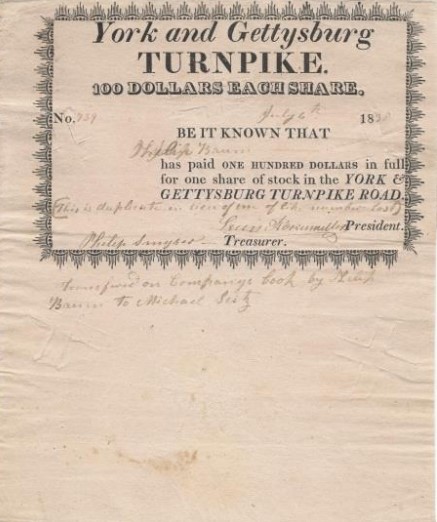 The westward movement of the population and of commerce between 1820 and 1840 is accelerated by the transition from simple dirt cart paths to well-constructed macadam roads, costing $1,500 to $2,000 per mile to complete.
Once these improved roads are available, a farmer or a settler family in a wagon is able to cover a distance of about 15 miles in a day.
Because of the large capital requirements, the macadams tend to be built by corporations, sanctioned by state governments and operating as turnpikes, i.e. toll roads. To guarantee the collection of fees for use, toll booths are constructed every few miles.
But with the exception of lucrative pikes situated on bridges crossing rivers, most of these investments are break-even at best for stock-holders.
Still the building efforts flourish – largely because towns and cities with good roads tend to enjoy greater commercial success. Roads yield farmers and travelers, who spend their money on Main St. at local taverns, inns, storefronts, and other businesses.
Between 1800 and 1840, some 1355 corporations are sanctioned across eleven Atlantic coast states to build turnpikes. That represents roughly one in every four incorporations for all purposes.
Turnpike Corporations Sanctioned In America
| | | | |
| --- | --- | --- | --- |
| 1801-10 | 1811-20 | 1821-30 | 1831-40 |
| 398 | 362 | 230 | 365 |
* Klein & Majewski UCSB for 11 eastern states
Roads become so important that some communities, lacking capital, force their resident to work several days each year to construct and maintain local pikes, or pay a penalty tax.
The federal government also plays a role here, funding the "National Road" in 1806, with construction beginning in 1811 in Cumberland, Maryland and reaching its final destination in Vandalia, Illinois, in 1837. This macadam road, running 611 miles in length, will carry the lion's share of travelers and commerce along the east-west axis through the 1840's, when the era of trains begins.
As time passes, a cheaper alternative to the macadam construction materializes in the form of the plank road. Here lumber "sills" are laid down in parallel about six feet apart, and covered by eight foot long by three foot wide by four inch thick wood planks placed perpendicular to the sills and held down by their own weight. These plank roads tend, however, to wear out every 4-5 years, and they eventually fade out of popularity.
The development of serviceable roads throughout America is also supported by the desire of citizens and businesses to stay in touch via the U.S. Postal Service. In 1792 Congress designates that roads used to deliver mail be declared postal routes – and thereby eligible to be considered for permanent Post Offices, soon the mark of civic pride and connectivity.
By 1840, however, the population is bound together not only by the emerging road systems, but also by two technological advances – steamboats and trains.
Both will appeal to American's growing desire not only to move about, but to do so at an ever faster pace.
Steamboats Facilitate Upstream Travel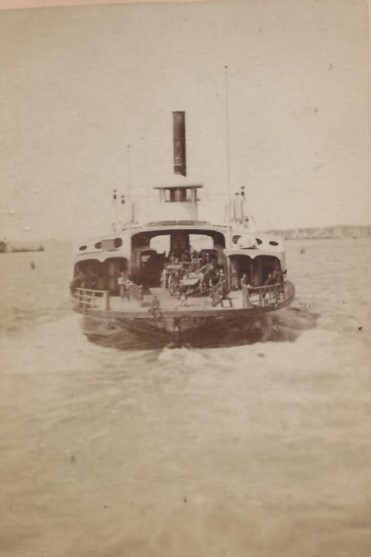 Breakthroughs in steam engine technology during the 1760's and 1770's by the Scottish inventor and machine maker, James Watt, filter across the Atlantic and begin to impact America in a multitude of ways. The first involves steamboats.
The Pennsylvania native, Robert Fulton, travels to Europe in 1788 to further his dual careers as an artist and inventor, and becomes fascinated by the potential of steamboats to transform water travel in America by going upstream at speeds unimaginable to rowboats or canoes. While in England, he also works with the navy to build torpedoes and even submarines, designed to combat invasion threats from Napoleon's French fleet.
At the same time, another American, John Fitch, is making trial runs with early steamboat models on the Delaware River. But it is Fulton who builds the first commercially viable steamboat, named The Clermont, which in 1807 ferries passengers over 150 miles from NYC to Albany in some 32 hours.
Soon thereafter, the young entrepreneur, Cornelius Vanderbilt, begins to add steamboats to his fleet, and by 1838 his fabulously profitable Staten Island Ferry is transporting passengers to most points within Long Island Sound.
In 1837 the Western Transportation Line offers a range of steamboat trip between Philadelphia and St. Louis, some 1750 miles and 14 days away. Food is served onboard at a price of 37.5 cents per meal.
East – West Steamboat Travel In 1837
| | | |
| --- | --- | --- |
| Philadelphia To: | Price | Travel Days |
| Pittsburgh | $6.00 | 6.5 |
| Cincinnati | 8.50 | 8.5 |
| Louisville | 9.00 | 9.5 |
| St. Louis | 13.00 | 14.0 |
William Pooley 1905 PhD Thesis – UWisconsin
The Boom In Railroads Is Beginning
Meanwhile Watt's steam engine has also been adapted to overland travel, in the form of trains.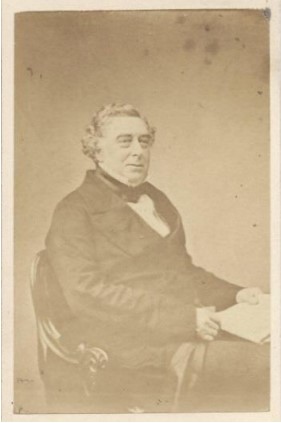 The first train is built by the Englishman, Richard Trevithick, in 1804, for travel on roadways. By 1825, however, one George Stephenson establishes the Stockton & Darlington Railway, in northeast England, the first public steam train set up to run on iron tracks.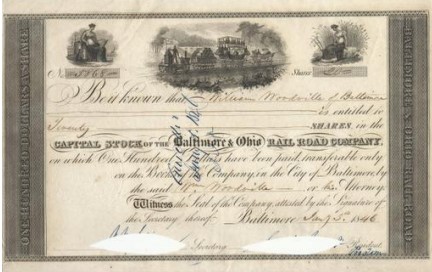 The notion of developing a similar system in America begins to take serious shape on April 24, 1827, when the B&O Rail Road Company is incorporated, to construct a common carrier line linking the port city of Baltimore to cities along the Ohio River, in competition with the seven year old Erie Canal.
In 1830, the inventor and entrepreneur, Peter Cooper, builds the locomotive, Tom Thumb, to convince the B&O owners to use his steam engines on their lines. Within a decade its successor is capable of hauling 50 tons at a speed of 15mph, twice that of a horse-drawn stagecoach.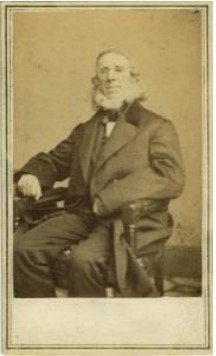 Profits from Cooper's engine fuels his subsequent investments in iron mills, New York city real estate, and the American Telegraph Company (after Samuel Morse's 1837 invention), making him one of the richest men in America. He is also a devout Christian who fights against slavery and for Indian rights, and runs for President in 1876, at age 85, on the Greenback Party ticket.
In 1831 Holmes Hinkley and his partner Daniel Child found The Boston Machine Works, which builds locomotives for America over the next three decades. One example is the locomotive "Muzzey," a 4-4-0 configuration (4 leading wheels, 4 driving wheels, 0 trailing wheels), which they complete around 1854.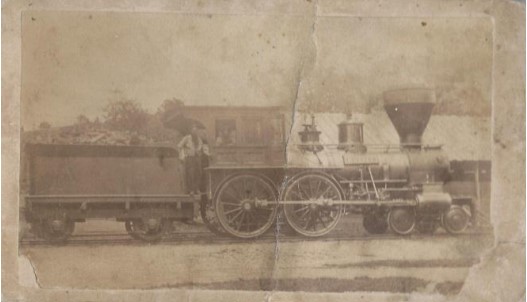 Businesses see the benefits of rail transportation right away, and the race is on to lay track, especially across the industrializing northern states.
By 1840, track mileage has reached 2,755 miles in total.
Accumulated Miles Of Railroad Tracks By Region
| | | |
| --- | --- | --- |
| Geography | 1830 | 1840 |
| Total U.S. | 40 | 2,755 |
| | | |
| New England (Me, NH, Vt, Ma, RI, Ct) | 30 | 513 |
| Rem. North (Del, NY, NJ, MD, DC, Oh, Mi, In) | — | 1,484 |
| West (Il, IA, Wis, Minn, MO) | | |
| South/Border (Va, NC, SC, Ga, Fl, Al, Ms, Ky, Tn, La) | 10 | 758 |
Taken together, these improvements in transportation support both commerce and the move toward an urbanized America.
Transportation Tycoon Commodore Cornelius Vanderbilt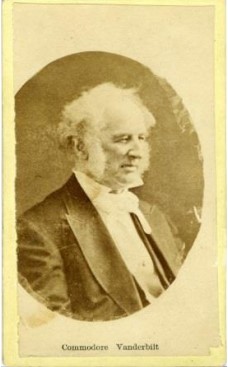 Cornelius Vanderbilt's life is symbolic of "the American dream" – the individual man, rising from humble origins to achieve fabulous wealth and power based on his own ideas, his determination and his mastery of capitalism and its offspring, the "corporation."
He revolutionizes the transportation industry in America, first on the waterways with his steamboats, then on land with his railroads. He dominates real estate development in Manhattan and assures its place as the nation's financial capital. In his ability to create businesses that anticipate and efficiently meet the needs of the marketplace, and deliver steady profits to "shareholders," he emerges as America's first entrepreneurial giant.
Vanderbilt is born of Dutch settlers in 1794, and at age 11 begins to operate a small boat that transports local goods from his village on Staten Island across the Hudson to Long Island, in exchange for pennies. By 1828 he has expanded his "fleet," added steamboats, and ventured up the river to service the booming docks of Manhattan. He soon earns his nickname, The Commodore, with his Staten Island Ferry and other lines dominating water transit in and around Long Island Sound.
In the 1840's, he decides that his successes in transporting people and goods on water can be replicated on land, and he begins to invest his wealth in acquiring a string of railroads. By 1847 he has control of the Stonington Line, which links NY to Boston and Providence. Later he will acquire and turn around the Harlem Line, which runs through the middle of Manhattan, and then the NY Grand Central Line, which earns him his second name, The Rail King. During this period he is also acquiring real estate in Manhattan, for personal residences and for the Grand Central Station Depot, which he builds with his own money.
In the 1850's he launches an ocean-going fleet of vessels that links the booming "gold rush" state of California to the east coast, via transit routes in Central America. In the 1860's he contributes his personal steamship, Vanderbilt, and his transportation know-how to the North. And then he lives on, doing one Wall St. deal after another, until 1877, when he dies at 82 with an estate of $100 million, arguably making him the richest man in U.S. history.
Along the way, Vanderbilt exhibits mastery over many of the tools of modern capitalism: vertical integration (building his own engines and vessels for his fleet); reframing (moving out from water to land transport); mergers and acquisitions (both ships and railroads); stock market plays (short-selling and buying back); an ongoing search for competitive advantage to achieve the pricing and profitability associated with monopolies; and constant efforts on behalf of laissez-faire policies that keep government out of "his" free market.
You Are There
| | |
| --- | --- |
| 1810 | At 16 he is ferrying freight and passengers between Staten I and Manhattan |
| 1814 | Moves to Manhattan with wife, and begins to buy city land. |
| 1817 | Adds first steamboat and captains it between NY and NJ |
| 1824 | Breaks NY insider monopoly on routes via Supreme Court win (Gibbons vs. Ogden) – "states have no right to interfere in interstate commerce." |
| 1834 | Expands routes across Long Island Sound |
| 1838 | In control of Staten Island Ferry, and given nickname "The Commodore" |
| 1840 | Sees potential to also dominate land transport; begins to acquire railroads |
| 1847 | Uses short-selling of stock to buy the Stonington rr (NY-Boston Providence) |
| | Proposes canal across Nicaragua to link east with west |
| 1848 | Starts ocean-going steamship line to service California "gold rush" demand |
| 1850 | Proposes to carry US mail to west coast at low price via Nicaragua canal |
| 1855 | When Nicaragua stalls, gains control of Panama as overland solution |
| 1857 | Crushes William Walker filibuster in Nicaragua |
| 1862 | Donates personal steamship Vanderbilt to civil war effort |
| 1863 | Begins NY & Harlem rr turn-around and building Grand Central Depot |
| 1867 | Acquires NY Central rr and earns second nickname "Railroad King" |
| 1869 | Immense power of Wall St. on economy seen in Black Friday gold scandal |
| 1877 | Dies at 82, possibly richest ever with $100MM (est. at $143B in 2007 $) |
The Nation's GDP More Than Doubles In The Last 20 Years
Despite Periodic Blips, Economic Gains Are Remarkable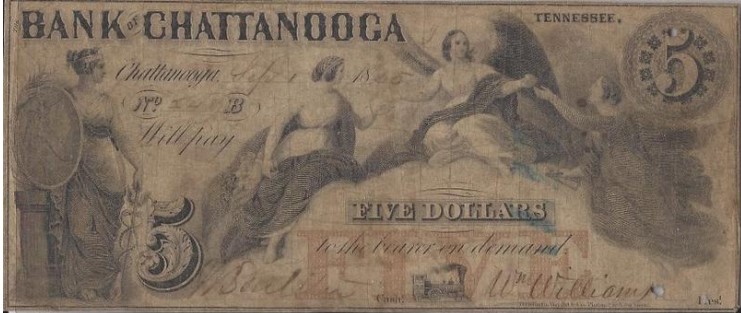 America's economy circa 1840 exhibits a pattern that will repeated over time – with periods of rapid expansion interrupted by over-the-top financial speculation, bank failures and slowdowns.
The 1819 panic and recession gives way to accelerating growth between 1825 and the end of Jackson's second term in 1836. At which time the upward momentum slows in response to his decisions to close the U.S. Bank and clamp down on speculation, driven by too many soft banknotes backed by too few hard gold/silver reserves.
But despite the Bank Panics of 1819 and 1837, America's total GDP remains on a quite consistent upward trajectory.
Total GDP more than doubles, from $700 million in 1820 to $1.56 Billion in 1840, with per capita GDP rising from $73 to $91 a year. And this roughly 5% per year growth in GDP is occurring before the full might of the industrial revolution has taken hold.
Long-term Overview Of U.S. Economy: Current Dollars
| | | | | |
| --- | --- | --- | --- | --- |
| | Total GDP | % Change | GDP Per Capita | % Change |
| 1790 | $190MM | | $48 | |
| 1800 | 480MM | 152 | 90 | 88% |
| 1805 | 560 | 17 | 90 | Nc |
| 1810 | 700 | 25 | 97 | 8 |
| 1815 | 920 | 31 | 110 | 13 |
| 1820 | 700 | (24) | 73 | (34) |
| 1825 | 810 | 16 | 73 | Nc |
| 1830 | 1,010 | 25 | 78 | 7 |
| 1835 | 1,330 | 32 | 89 | 14 |
| 1840 | 1,560 | 17 | 91 | 2 |
Measuring Worth: Prof. Louis D. Johnson and Samuel H. Williamson
U.S. Exports Also Grow Driven Heavily By Cotton
The value of American exports also trends upward, although annual swings are much more volatile, owing to "shipping shocks" like Embargoes, and changing tariff rates.
Value Of US Exports: 1790-1815
| | | | |
| --- | --- | --- | --- |
| Year | Total | % Ch | Shocks |
| 1790 | 20.2 | — | |
| 1805 | 95.6 | ++% | |
| 1810 | 66.8 | (30) | 1808 Embargo Act |
| 1815 | 52.6 | (21) | War of 1812 |
| 1820 | 70.0 | 33 | Bank Panic of 1819 |
| 1825 | 90.7 | 30 | |
| 1830 | 71.7 | (21) | 1828 Tariff Jump |
| 1835 | 115.2 | 61 | |
| 1840 | 123.7 | 7 | Bank Panic of 1837 |
North p.221
By 1840, over half of the nation's total exports are concentrated in Southern cotton shipments to England and other European nations.
The dramatic interruption in growth of cotton sales between 1825 ($37 million) and 1830 ($30 million) shows the negative effect of the so-called 1828 Tariff of Abominations on Southern prosperity.
Value (MM) Of US Exports & Cotton As %
| | | | | |
| --- | --- | --- | --- | --- |
| Year | Total | Cotton | % Cotton | Shocks |
| 1815 | $52.6 | $17.5 | 33% | War of 1812 |
| 1820 | 70.0 | 22.3 | 32 | Bank Panic of 1819 |
| 1825 | 90.7 | 36.8 | 41 | |
| 1830 | 71.7 | 29.7 | 41 | 1828 Tariff Jump |
| 1835 | 115.2 | 65.0 | 56 | |
| 1840 | 123.7 | 63.9 | 52 | Bank Panic of 1837 |
Along with all this economic growth comes some shifts in the way Americans make their livings.
Many New Ways To Make A Living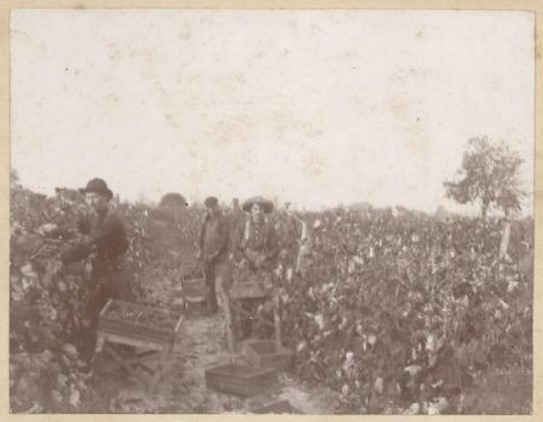 At the aggregate level, the percentage of people classified as "in the labor force" is unchanged from 1820, at 33%, as is the much higher incidence among those enslaved (60%) than those who are free (28%).
Total Labor Force Participation (000)
| | | | |
| --- | --- | --- | --- |
| Year | Total US Pop | In Labor Force | % In Labor |
| 1820 | 9,368 | 3,135 | 33% |
| 1830 | 12,860 | 4,200 | 33 |
| 1840 | 17,063 | 5,560 | 33 |
But a major shift is already evident in the character of this labor. The percentage of people working in the agricultural sector has dropped sharply from 79% in 1820 to 63% in 1840. This Census is the first to examine the non-agricultural component of total labor, and it shows 9% employed in manufacturing, 6% in trade (the middlemen function of buying and selling goods), and the remaining 22% in the broad range of for-pay jobs available in the burgeoning towns and cities.
How People Make Their Living
| | | | | |
| --- | --- | --- | --- | --- |
| Year | Agriculture | Manufacturing | Trade | All Other |
| 1820 | 79% | na | na | 21% |
| 1830 | 71 | na | na | 29 |
| 1840 | 63 | 9% | 6% | 22 |
This trend away from Jefferson's yeoman farmers to Hamilton's industrialized economy will continue steadily over time – resisted only in the South, where agricultural cash crops of cotton, rice, tobacco, sugar and indigo remain dominant.
Manufacturing growth results from the relentless American wish to make their homes and daily lives easier and more enjoyable. To deliver the goods needed, small "by-hand" workshops start up, typically around population centers. Over three-quarters of these manufacturing jobs are concentrated in the Northeast and Northwest regions.
Location Of Manufacturing Jobs
| | | |
| --- | --- | --- |
| Region | 1820 | 1840 |
| Northeast | 62% | 63% |
| Northwest | 7 | 14 |
| Border | 12 | 8 |
| Southeast | 16 | 11 |
| Southwest | 3 | 4 |
| | 100% | 100% |
Domestic Manufacturing Picks Up Steam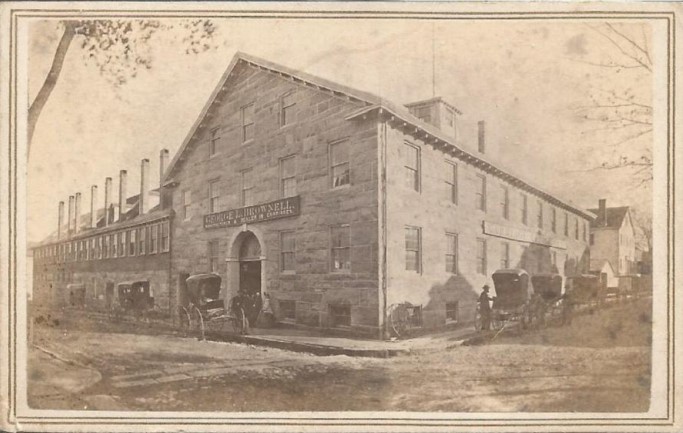 By 1840 Adam Smith's "invisible hand" of capitalism seems to be already pointing entrepreneurs toward rich pockets of gold in the American marketplace.
An integrated workshop system for producing shoes starts up in Massachusetts. Connecticut shops turn out tinware, household utensils, buttons and wooden clocks. The manufacture of glassware, initiated at Jamestown in 1608, flourishes in New York and New Jersey. Odiferous tanneries convert cattle hides into leather goods. A garment district materializes in major cities along the east coast run by middlemen, called "sweaters." They acquire raw textiles, and oversee 12 hour a day "sweatshops," where roomfuls of low paid women hand-sew finished clothing.
Other "cottage industries" pop up to fill in what are becoming necessities of everyday life, with many of these goods reaching their customers through street peddlers who roam the towns and countryside.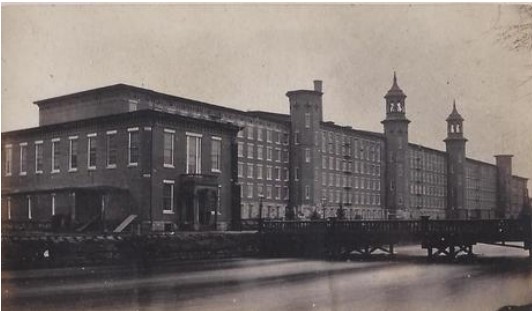 Meanwhile much more complex and larger scale manufacturing initiatives are developing, often modeled around the "factory principles" pioneered in 1812-14 at Frank Lowell's Waltham textile mills.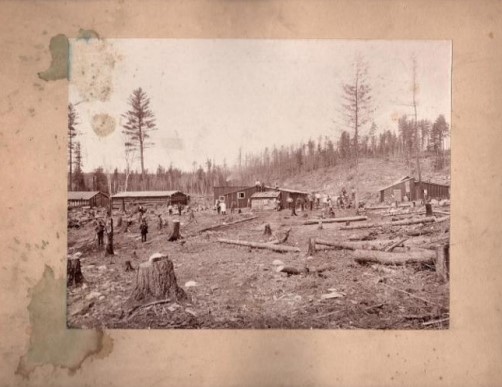 Sawmills turn lumber into boards needed by skilled carpenters to make furniture and build houses.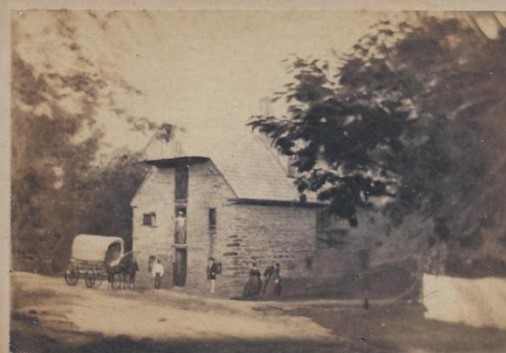 Grain mills and presses provide needed food staples such as flour, rice, cornmeal, and sugar.
Demand for iron and steel accelerates, to make wagon wheels, horseshoes, a range of tools, firearms and the like. To meet it, miners dig raw ore from the ground, and convey it into huge furnaces or fired to 2000 degrees Fahrenheit. These forges "smelt," or purify, the ore and enable it to flow into what look like feeding troughs, hence the name "pig iron." From there it is either funneled directly into pre-made molds to make "cast iron" objects, such as cannon balls and wheels, or cooled down into malleable bars, "wrought" by hammering into more refined goods.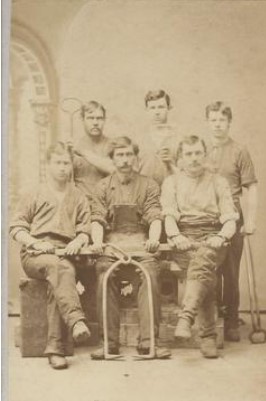 Prior to the discovery of iron ore in the Lake Superior region and in Alabama, Pennsylvania produces almost 60% of the nation's pig iron, with output rising in the 1830's to meet new demand for railroads and cast iron heating and cooking stoves.
Average Annual Incomes Range From $200-$500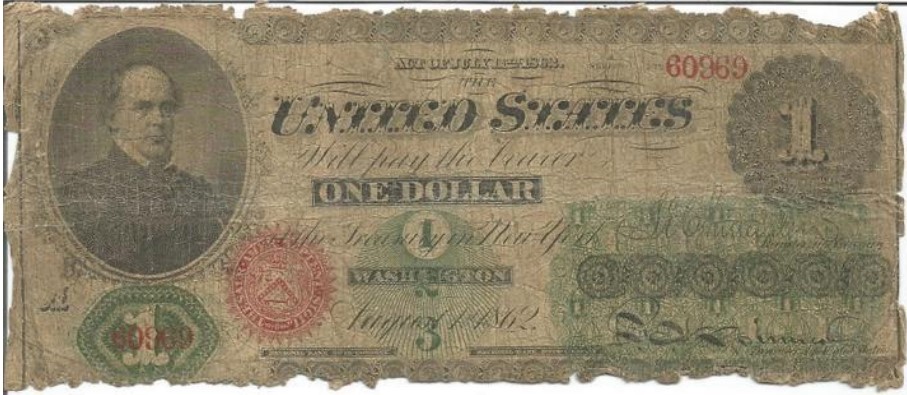 While it is more art than science to determine how much money average Americans earned from their labor during the antebellum period, several economists have attempted this. One version is based on examining payroll records over time and constructing aggregate trend data for three classes of workers, across the country as a whole.
This pegs the daily wages for common day laborers at 78 cents a day in 1831-40, with skilled laborers at $1.51 and white collar workers at $1.80. All three have shown modest increases since 1821-30.
Average Nominal Wages For Workers – Daily
| | | | |
| --- | --- | --- | --- |
| | Common Laborer | Skilled Artisans | White collar |
| 1821-30 | $0.70 | $1.36 | $1.55 |
| 1831-40 | 0.78 | 1.51 | 1.80 |
Robert Margo, Vanderbilt U
These estimates translate to roughly $200 per year for common laborers, $400 for skilled craftsmen, and $475 for the emerging white collar class.
Average Nominal Wages For Workers – Yearly (12 months)
| | | | |
| --- | --- | --- | --- |
| | Common laborer | Skilled Artisans | White collar |
| 1821-30 | $185 | $359 | $413 |
| 1831-40 | 206 | 399 | 474 |
Robert Margo, Vanderbilt U
Other economists have attempted a more granular analysis, breaking out additional classes of workers, by both gender and geographical regions, while ending up in the same general $200- $500 annual income range at the aggregate level. Their work leads to several observations:
Income for urban workers ($269) is already surpassing that of farmers ($196).
Women are considered cheap labor and earn far less than their male counterparts.
Miners, soldiers and factory workers earn in the $250-325 range.
Skilled craftsmen earn $400-450, roughly double the average farmer.
Pay for men teachers and clergymen exceed the artisans by $150 per year.
Elite pay (3x all others) goes to lawyers, public officials, surgeons and judges.
Average Nominal Wages For Workers – Yearly (1840-50)
| | | | | |
| --- | --- | --- | --- | --- |
| | Northeast Mid | Atlantic | South Atlantic | Unwt Average |
| Farm Laborers | $235 | $195 | $158 | $196 |
| Urban Laborers | 298 | 282 | 227 | 269 |
| | | | | |
| Female Domestics | 135 | 100 | 103 | 113 |
| Females In Manufacturing | 162 | 179 | 161 | 167 |
| Female Teachers | 187 | 187 | 205 | 193 |
| | | | | |
| Miners | — | 247 | 269 | 258 |
| Seamen/Soldiers | 298 | 282 | 227 | 269 |
| Men In Manufacturing | 334 | 369 | 273 | 325 |
| | | | | |
| Building Trade | 412 | 412 | 418 | 414 |
| Craftsmen/Artisans | 444 | 444 | 451 | 446 |
| | | | | |
| Clergymen | 600 | 600 | 500 | 567 |
| Men Teachers | 507 | 617 | 647 | 590 |
| | | | | |
| Lawyers | 1320 | 1400 | 2350 | 1690 |
| Public Commissioners | 1275 | 1500 | 2647 | 1807 |
| Surgeons | — | — | 1912 | 1912 |
| Judges | 2081 | 2085 | 2025 | 2063 |
| | | | | |
Lindert-Williamson, U California (Davis)
Anecdotal Data On "What Things Cost" Around 1840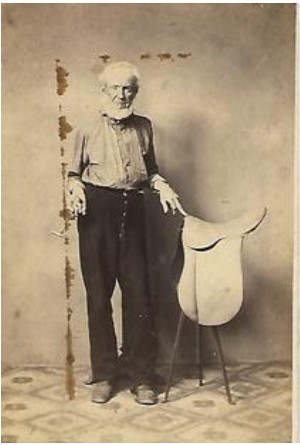 If the income for most Americans around 1840 is between $200 to $450 per year, the question becomes what can be purchased with this amount of money? Aside from the official price of public land – set at $1.25 per acre with a minimum purchase of 80 acres for $120 in total – all other data is anecdotal.
It is plucked from entries in personal journals, kept at various times and places, accompanied by often vague descriptions, and collected randomly. Still it provides some small perspective on the "cost of living" in the 1820-1860 timeframe.
For the hard-living men of the era, it appears that a tumbler of whiskey and a chaw of tobacco are easily affordable to all.
| | |
| --- | --- |
| To Buy: | Price |
| 33 oz of whiskey | $.08 |
| 1 lb of tobacco | .10 |
The same can be said for coffee which, at 18 cents per pound of beans, should yield about 36 cups (8 oz size) or roughly a half-penny per serving. Tea is slightly more expensive, with one pound of leaves selling for 75 cents and yielding about 120 cups (8 oz. size).
| | |
| --- | --- |
| To Make One: | Price |
| 8 oz. cup of coffee | $.005 |
| 8 oz. cup of tea | .006 |
The price per pound of sugar is about twice that of salt.
| | |
| --- | --- |
| To Buy: | Price |
| 1 lb of salt | $.03 |
| 1 lb of sugar | .08 |
Eggs are a bit pricier, at 24 cents per dozen. Cheese and butter are also more precious, as is honey.
| | |
| --- | --- |
| To Buy: | Price |
| 1 dozen eggs | $.24 |
| 1 lb of cheese | .14 |
| 1 lb of butter | .18 |
| 1 lb of honey | .25 |
While both are plentiful and cheap, milled flour costs more than corn meal.
| | |
| --- | --- |
| To Buy: | Price |
| 1 lb of corn meal | $.02 |
| 1 lb of flour | .05 |
Beef prices range upward from 3 cents a pound for calf's veal to 9 cents for salted/preserved options. Pork brings roughly twice as much as beef, with hams and bacon at the top end on pricing. Codfish costs about the same per pound as fresh beef.
| | |
| --- | --- |
| To Buy 1 Lb: | Price |
| Veal | $.03 |
| Fresh Beef | .05 |
| Codfish | .06 |
| Salted Beef | .09 |
| Fresh Pork | .11 |
| Lard | .12 |
| Ham | .14 |
| Bacon | .15 |
Rice is priced well above other traditional starches like potatoes.
| | |
| --- | --- |
| To Buy: | Price |
| 1 lb of sweet potatoes | $.03 |
| 1 lb of rice | .10 |
Certain fruits appear to be in shorter supply and hence more expensive.
| | |
| --- | --- |
| To Buy: | Price |
| A single lemon | $.03 |
| 1 lb of dried peaches | .20 |
Raw yarn ranges from cotton at 8 cents a pound up to sheep's wool at 35 cents.
| | |
| --- | --- |
| To Buy: | Price |
| 1 lb of cotton | $.08 |
| 1 lb of sheep's wool | .35 |
Finished clothing and bedding is considerably more expensive.
| | |
| --- | --- |
| To Buy: | Price |
| 1 handkerchief | $1.08 |
| 1 flannel shirt | 8.00 |
| 1 pair of trousers | 18.00 |
| 1 bed blanket | 25.00 |
| 1 soldier's jacket | 32.00 |
A pair of shoes might run $12.00 or boots at twice that much.
| | |
| --- | --- |
| To Buy: | Price |
| 1 pair shoes | $12.00 |
| 1 pair of boots | 24.00 |
A place setting of blue china runs about $8.00, while a piano might go for $195.
| | |
| --- | --- |
| To Buy: | Price |
| 1 place setting of blue china | $ 8.00 |
| 1 piano | 195.00 |
A routine doctor's visit is referenced at $2.00, while a traveler lists one night for room and board at a hotel for $2.29.
| | |
| --- | --- |
| To Buy: | Price |
| 1 routine doctor's visit | $2.00 |
| Room & board at hotel | 2.29 |
Lumber is plentiful, with one board foot (1'x1'x1") going for 15 cents. Where building or paving involves bricks, they can be had for about 8 cents apiece.
| | |
| --- | --- |
| To Buy: | Price |
| 1 board foot of lumber | $.15 |
| A single finished brick | .08 |
A new home is recorded as sold in Brooklyn for $2,500.
A prospector buys a mining pan for $8.00.
A revolver brings $15.00; a rifle $25.00; a good horse $125.00.
None of these prices should be thought of as "statistically sound or truly representative." Still they can be seen in the context of trying to live off of an income that ran around 75 cents per day for most people.
To buy that new $12.00 pair of shoes you want will require 16 days of your hard labor.
A Military-Industrial Complex Starts Up
The North Leads The Way In Production Of Armaments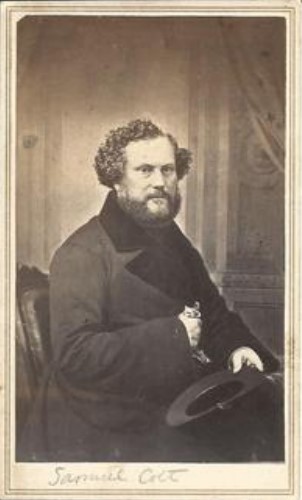 As always, it is demand for military weaponry that plays a leading role in manufacturing advances.
The arms industry in America begins in 1777, after the outbreak of the Revolutionary War, when George Washington commissions the first armory, in Springfield, Massachusetts. Two years later the facility, under General Henry Knox, is able to manufacture the nation's first flintlock musket. It fires a ½ inch lead ball, cradled in a paper cartridge, and rammed down the barrel on top of gunpowder loaded from a horn. The charge is ignited by a flint stone in the hammer that creates a spark when the trigger is pulled. The weapon takes 30 seconds to set up, misfires about half of the time, and is accurate to only 100 yards.
In addition to muskets, Washington's army also requires cannon to survive. Most of these are European models captured during battle. But gradually large forges in the iron rich regions of Pennsylvania begin to cast reliable cannon in the two most widely employed size – one capable of firing an 18-pound solid iron ball, the other a 12 pounder, with accuracy up to roughly one mile.
The uncertain supply of arms during the Revolutionary War prompts the call for greater manufacturing capacity and efficiency in anticipation of further conflict.
In 1798, it is Eli Whitney, famous for patenting his cotton gin five years earlier, who steps up with the promise of supplying the government with 10,000 muskets from his factory in New Haven, Conn. The process he uses involves some 195 separate steps to produce and assemble 50 distinct parts, from woodstocks to hand-bored barrels, intricate triggers, and various mountings, each of which must work reliably on the battlefield. The task takes Whitney ten years to complete.
The Ft. Pitt Cannon Foundry in Pittsburg starts up in 1804 and turns out much of the heavy duty artillery used in the War of 1812, including 50 pound "Columbiads," designed by Lt. Colonel George Bomford and placed in seacoast fortifications to thwart naval attacks. Some thirty years later, it becomes the Knapp Rudd & Company, famous for eventually producing the massive 100-200 pound Rodman guns used in the Civil War.
In 1816 twenty-three year old Eliphalet Remington II picks up where Whitney left off. His father runs a forge in Herkimer County, New York, which leads to his determination to craft a new, improved rifle that will win him prizes for marksmanship. After showing off his gun, orders pour in for duplicates from those who observe its accuracy. By 1828 the firm of E. Remington & Sons has mastered the know-how required to form and ream iron barrels and is shipping them to gunsmiths across the country.
In 1836 the foundry at West Point, New York, established after the War of 1812, hires Robert Parrott as its new Superintendent. He will remain in the post for four decades and perfect what is christened the Parrott Rifle, noted for a wrought iron band reinforcing the breech. His 30 lb. gun will become the largest infantry cannon in the Civil War.
The demand for hand-guns also grows, and, in 1836, twenty-two year old Samuel Colt starts up Colt's Patent Fire-Arms Manufacturing Company in Hartford, Connecticut. Colt pioneers the concept of machining interchangeable parts for his guns and the "assembly lines" approach to insure efficiency and consistent quality. By the time Colt dies in 1862, his firm leads all competitors in the mass production of and he is one of America's wealthiest men.
Other notable armament factories up North operating by 1840 include the Cyrus Alger & Co. works in Boston, and the Scott Foundry in Reading, Pennsylvania.
The South Trails Far Behind On Weaponry
In 1840 the Southern economy is becoming even more concentrated on its cotton crop and on breeding excess slaves for sale in the west.
As such its interest in manufacturing, including armaments, remains low.
Some pig iron facilities are in operation by that time.
The Clarksville Foundry in Tennessee has been up and running since 1797. The Tannehill Ironworks open in 1830 to take advantage of the vast mineral deposits in Alabama. These two are joined by Moses Stroup's Ironworks (1831) in Georgia, and Catharine Furnace (1837) in Chancellorsville, Virginia.
But the only Southern factory capable of eventually making muskets and cannon is the Tredegar Iron Works, located on 22 acres in Richmond, which opens in 1837.
Its mission at the time, however, is not armaments, but rather to address the growing needs in the railroad sector. Under the guidance of superintendent, Joseph Reid Anderson, from 1841 forward, Tredegar will supply some seventy steam locomotives and thousands of miles worth of railroad tracks before it ever becomes the dominant supplier of cannon, rifles and munitions for the Confederate Army.
Manufacturing Round Shot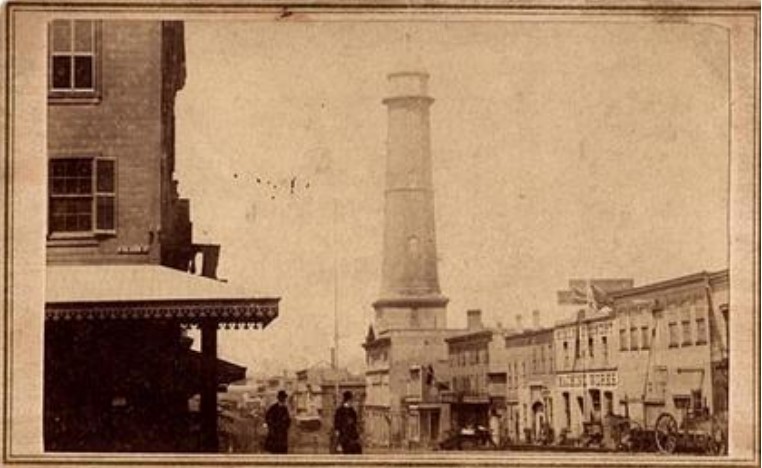 In 1782 William Watts of Bristol, England invents an improved method for producing the perfectly round and solid shot used as ammunition for muskets and cannon. Instead of the slow and costly use of moulds to cast the balls, Watts builds a 200-foot tall vertical factory known as a "shot tower." At the top of the tower, lead is heated to a molten state and then passed through various sized "sieves" and allowed to drop freely to ice water pools at the base. Gravity forms the lead into the desired roundness during the fall, and the water bath solidifies the lead and locks in the shape.
The "shot tower" in the photo stands at the corner of First and Howard St. just east of San Francisco Bay, around 1868. It is operated since 1865 by the Shelby Smelting & Lead Company, owned by one Thomas Shelby, the 13th Mayor of San Francisco.
Major Strides Are Taken In Education
Bronson Alcott Challenges Orthodox Teaching Methods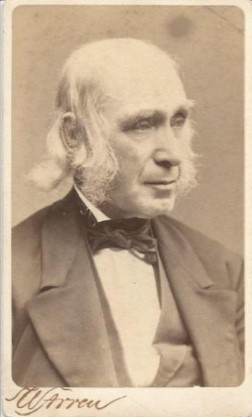 By the 1820's America is already recognizing that advances in education are required if the young nation is to outpace Europe both economically and culturally. In turn, the movement is on to experiment with new teaching methods and to provide a formal education to many more students. Much of the work here is concentrated among a band of intellectuals living in New England.
One of the early leaders in this regard is Amos Bronson Alcott, born in 1799 in Connecticut and largely self-educated, who enters the education arena after starting out as a traveling salesman.
Alcott's educational approach is influenced by an 1801 book, How Gertrude Teaches Her Children, written by the Swiss reformer, Johann Pestalozzi. It focuses on preparing students to think and to question, rather than simply to memorize material. To accomplish this, Alcott engages in "conversations" about the student's experiences and beliefs, often related to their spiritual development. For many parents this crosses a forbidden line, and attendance evaporates at Alcott's early schools.
In 1828 Alcott finds a supporter in the Unitarian minister, Dr. William Ellery Channing (uncle of the Transcendentalist poet, Ellery Channing), and in 1834 opens the Temple School at a Masonic Lodge in Boston. His assistants include Elizabeth Peabody, a pioneer in early childhood learning, and the women's right advocate, Margaret Fuller. Alcott decorates his classroom with paintings and sculpture, artifacts to prompt the Socratic dialogue he seeks. But it too fails by 1837, due to his controversial methods, along with his outspoken personal stances in favor of abolition, and his admission of a black student.
In later years, Alcott will join the inner circle of the Cambridge Transcendentalists, befriending Emerson, Thoreau, Theodore Parker, Nathaniel Hawthorne and others, and his daughter, Louisa May Alcott will become famous with the 1868 publication of her novel, Little Women. He sets up a Utopian community in 1843 called The Fruitlands, which disbands after seven months.
Bronson Alcott will live until 1888, advocating against the Fugitive Slave Law, in favor of women's rights, in search of "moral perfection." While many of his organizational schemes end in failure, he plays an important role in challenging the orthodox teaching methods of his time.
Horace Mann Becomes Board Of Education Secretary In Massachusetts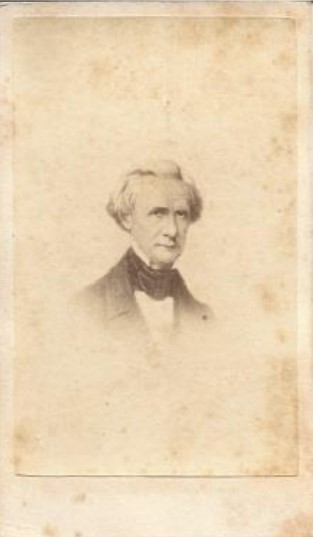 While Alcott is experimenting with upscale students, others in Massachusetts hope to establish a system of common (or public) schools that will benefit the masses.
The most prominent force behind this idea is Horace Mann, born May 4, 1796 on a modest farm in the town of Franklin, Massachusetts. His life tells the classical American tale of achievement and advancement through the power of education.
Horace is raised in a strict Calvinist household, with a mother who insists on "proper behavior…and narrow-path conduct," and a father who instills in him a "reverence for learned men." But his sudden death in 1853 leaves the family in dire financial straits and, at age thirteen, the boy is forced to focus on farm work rather than attending one of the "free schools" that have existed in Massachusetts since 1647.
To satisfy his natural inquisitiveness, he spends his free time at the local library reading a collection of books donated by founding father Benjamin Franklin, for whom the town is named. His persistence here pays off in 1816, when he is admitted to Brown University and goes on to graduate at the top of his class three years later.
His next four years find him teaching Greek and Latin at Brown and studying the law, eventually at the Tapping Read Law School in Litchfield, Connecticut, famous for graduates such as John C. Calhoun, Aaron Burr and a host of other national politicians and court justices.
He begins his law practice in 1823 and is elected to the state legislature from the town of Dedham in 1827, and then from Boston, in 1833. His work on behalf of education, religious liberty, public charities and temperance is recognized by John Quincy Adams, and he becomes President of the State Senate in 1836.
One year later, in June 1837, Mann is elected to the position which will secure his legacy as the "father of the common school movement" in America – Secretary of the Massachusetts's Board of Education.
Mann Lays Out Plans To Improve Public Schools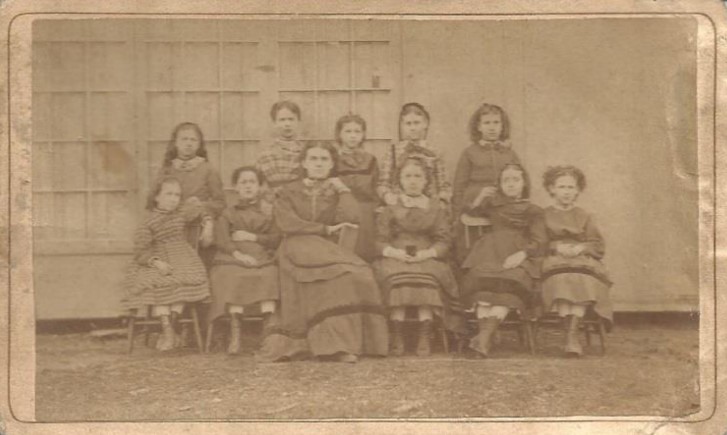 Mann's position as Board Secretary represents the first attempt by any state to recognize the importance of education to the nation's future. The legislation which creates his office defines his duty to "investigate the moral and material conditions of the schools and discover the best methods for improving them."
Thirty years later he recalls his initial findings, gleaned from riding on horseback across the state and observing operations of both public and private schools:
Statewide there were roughly 3,000 common schools serving 165,000 students.
Another 12,000 upper class students were attending private schools.
The gap in educational quality between the private and public schools was obvious.
Pedagogy in common schools was marked by rote memorization, enforced by the rod.
Calling out individual letters and then saying the word aloud was the norm exercise.
But the vast majority of students were unable to explain the meaning of words memorized.
Mann set out to shift the way reading was taught by bringing the words to life in associated pictures and in conversations where they were converted into sentences related to everyday life experiences. This one methodological change alone had a huge effect on reading comprehension and on everyday fluency.
Throughout his travels, he records the "best practices" observed in classrooms and compiles these into teaching guides that he shares at conferences around the state. The tenacity of purpose Mann evidenced as a youth takes hold of his life as Education Secretary, and he foregoes all other legal and business practices in favor of the new mission.
In 1838 he launches The Common School Journal where he proposes a series of principles that will underlie the development of public education in America:
The nation is well served morally and economically by a truly educated general public.
Common schools should be paid for from public funds.
Attendance should include children from all backgrounds and economic situations.
Well-trained professional teachers are necessary to quality education.
The curriculum should be broadened beyond the 3R's.
Content should be secular in character, while inculcating Christian moral standards.
Harsh corporal punishment should be abandoned.
All children (both sexes) should stay in school up to the age of sixteen.
School buildings should be upgraded along with teacher pay.
Resistance to these principles tend to come from those who feel that parents, not schools, should inculcate "values," and from veteran teachers inclined toward "spare the rod and spoil the child."
In 1843 Mann's search for educational advances takes him to Europe, where he embraces the so called "Prussian model," which starts with mandatory kindergarten and progresses to eight grades of Volksschule, four of Hauptschule (for 14-17 year olds) and then, for top students, universities.
After a decade of service as Education Secretary, Horace Mann is elected to the U.S. House, upon the death of JQ Adams, and serves from 1848 to 1853. Once there he becomes a vigorous critic of slavery, arguing in favor of the Wilmot Amendment which would ban its expansion into the western territories. His words in this regard are unequivocal:
I consider no evil as great as slavery. Interference with (it) will excite civil commotion in the South. But it is best to interfere. Now is the time to see whether the Union is a rope of sand or a band of steel.
In 1853 he becomes the first President of Antioch College in Ohio, continuing his lifelong dedication to advancing the cause of education. He serves there until his passing in 1859, soon after delivering his famous commencement address admonishing students to:
Be ashamed to die until you have won some victory for humanity.
As more northern jobs rely on brainpower rather than physicality, the value of a formal education grows in importance. Pioneering research in teaching methods, undertaken by Horace Mann, Emma Willard, Catharine Beecher and Mary Lyon, begins to reshape K-12 schooling in Massachusetts and New York. Their work also opens up teaching as a second "suitable career path for women," to go along with nursing, and provokes more early debates about female roles and rights in society.
Emma Willard And Catharine Beecher Advance Education For Women
While Mann is busy strengthening the public schools, three women in particular are making conspicuous efforts to support higher education for females.
Emma Willard is one. She is a precocious child, sixteenth in line among her farming family in Berlin, Connecticut. In 1802, at age fifteen, she finally enrolls in a formal school, tears through the curriculum, and is hired as a teacher there at seventeen. After a short stint as principal of a female seminary in Vermont, where she meets and marries her doctor husband, Willard opens a boarding school of her own in 1814. From then on her goal is to offer women students the same kind of rigorous educational experiences historically limited to men. As she later says:
We too are primary existences… not the satellites of men.
Her efforts to receive public funding for such a venture are met by resistance from legislators who argue that women don't need higher education to perform their allotted role in society. But Willard persists and finally discovers a supporter in New York Governor DeWitt Clinton, a transformative political figure, who also sponsors the controversial Erie Canal after losing a bid for the Presidency in 1812.
In September 1821, Emma Willard opens her Troy Female Seminary, the first school in America to offer a higher education degree to women. By 1831 the college is thriving, with some 300 students, mostly from wealthier families. Willard is also a prolific author, publishing books that range from American history to biology, geography and poetry. She turns leadership of Troy over to her son and his wife in 1838 and spends the rest of her life traveling, writing and speaking on behalf of education for women. After her death in 1870, Troy will be renamed The Emma Willard School in her honor.
Unlike Willard, Catharine Beecher grows up in a prominent and highly educated family. Her father is Lyman Beecher, graduate of Yale Divinity School, and the fiery Calvinist minister of a Congregationalist church in Litchfield, Connecticut, where Catharine, her sister, Harriet Beecher (Stowe), and twelve other siblings, grow up.
As a youth she attends a private school until her mother dies in 1816, at which time she is called upon, at age sixteen, to take over domestic duties for her family. From her early experience she concludes that to accomplish their God-given role as homemakers, women must become better educated themselves so they can, in turn, educate their children. As she says:
Woman's great mission is to train immature, weak, and ignorant creatures to obey the laws of God; the physical, the intellectual, the social, and the moral.
When her fiancée, a Yale professor, dies at sea, she throws herself into founding a series of academies to educate women. She constructs a curriculum that emphasizes mastery of mathematics, theology and philosophy, and develops her own textbooks and materials for use in the classroom.
Her focus soon shifts to studying how children learn and translating her insights into training programs to develop superior teachers. In the 1850's she relocates to Ohio and works tirelessly to upgrade the education of women, teachers and children across the emerging western states. She founds the American Women's Educational Association and promotes the idea that females by nature make the best teachers.
Owing in large part to her efforts, young women are henceforth able to add teaching to nursing as a viable path to enjoying a paid career.
Unlike her more controversial siblings – the author, Harriet Beecher Stowe, the firebrand abolitionist preacher, Henry Ward Beecher and the suffragette, Isabella Beecher Hooker – Catharine Beecher's heart is forever devoted to a woman's role within the home. In 1869 she joins Harriet in co-authoring a widely read book, The American Woman's Home, offering advice to homemakers on raising children, physical fitness, proper dieting, budgeting and other family duties. She dies in 1878.
A third contemporary to Willard and Beecher in the cause of women's education is Mary Lyon.
1797-1849
Mary Mason Lyon Founds Mount Holyoke Female Seminary
Mary Lyon's youth mirrors that of Horace Mann in many ways. She is born in 1797 on a small farm in Massachusetts. She is only five when her father dies and thirteen when her mother remarries and moves away. Rather than attending school her early years are devoted to helping her brother work the land in order to survive.
But she is drawn to learning and makes her way to Byfield Seminary, where she experiences her wish for disciplined study embedded in an intensely Christian ethos. During this period her Baptist roots give way to the Congregationalist beliefs of the Puritan, Jonathan Edwards.
Henceforth she dedicates her life to educating young women, especially those held back by poverty. She teaches at a series of academies before being recruited by one Laban Wheaton to start up a seminary in Norton, Massachusetts. She creates the curriculum for the Wheaton Female Seminary and sees it open before moving on at age forty to fulfill her own destiny, Mount Holyoke Female Seminary.
Mount Holyoke admits its first class of fifty young women on November 8, 1837. From there, Mary Lyon crafts a university that reflects her core educational principles:
Intellectual pursuits should be aligned with moral purpose.
Tuition must be affordable to those with modest means.
To help defray costs, students will work to maintain the campus.
Daily exercise will be mandatory to build healthy bodies as well as minds.
The academic curriculum will rival that offered at universities for men.
Seven courses in science and mathematics will be required for graduation.
Science study will include hands-on laboratory experimentation.
Mount Holyoke sets a new standard for female seminaries springing up in her time. Its purpose goes far beyond that of "finishing schools," with their emphasis on manners and marriage and managing a household. Instead, Mary Lyon is intent on offering women the same intellectual challenges and knowledge reserved historically for men and then sending them off into the world to achieve the good works and reforms being touted by her revivalist contemporaries.
The model she sets in motion with Mount Holyoke will become the norm at other destined to be renowned women's colleges such as The Western College For Women (1855), Vassar (1861) and Wellesley (1870).
Mary Lyons oversees her academy for twelve years, before succumbing to a strep throat infection probably contracted while caring for a sick student.
McGuffey's Reader
Starting in 1836 and lasting for more than a century, schoolchildren across America achieve literacy with the aid of a series of six graded textbooks known as "McGuffey's Readers."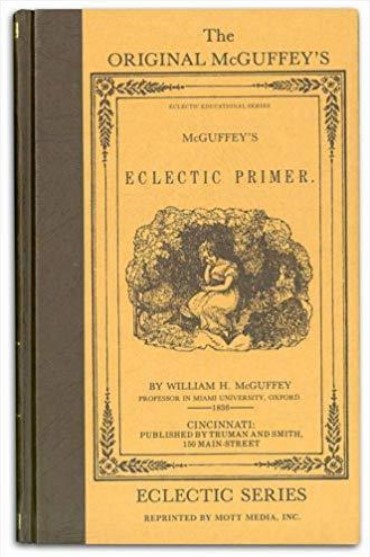 The principal author of these works is William Holmes McGuffey, second of eleven children, born in 1800 to a deeply religious Scottish family living on a farm along the southwestern edge of Pennsylvania.
From early youth onward McGuffey is drawn to education, and at age fourteen earns a certificate to act as a "roving teacher." He begins in Calcutta, Ohio, where he works eleven hours a day, six days a week, in the winter, trying to cram basic literacy skills into 48 students from 6 to 21 years old, before they depart for their summer farming chores.
The frustrations he experiences with this first job convince him to seek more formal training for himself, and he eventually enrolls at Washington College, graduating in 1826. But intermingled with his own studies are further ventures into hands-on teaching, most notably in Paris, Kentucky. There his classes are held in a retired smokehouse, using the Bible as his primary textbook.
For McGuffey, however, the choice of the Bible is not merely a matter of availability. Instead it reflects his deep roots as a Presbyterian Calvinist and his conviction that the driving purpose behind learning to read is to be able to explore the Scriptures and embrace the values they profess.
His reputation as a teacher wins him an invitation to join the faculty of Miami University in Ohio. It is there that he marries, preaches in church, is ordained a minister, and approached in 1835 by the Truman & Smith publishing company to author the six soon to be famous "Readers" that bear his name. He is accompanied in this effort by his brother, Theodore, who completes the Levels five and six works.
What McGuffey has learned from his teaching experience is that young children are drawn into reading through exposure to stories which fascinate them and follow-up questions that engage their intellects.
Thus, his Level 1 "Eclectic Primer" offers simple tales that a teacher reads out loud and then breaks down into letters, sounds and words, all associated with pictures. After this establishes a primitive vocabulary – "boy, girl, farm, hen, run…" – the stories graduate into greater complexity, up to Level 6 which includes poems, essays and other narratives, often drawn from authors such as Milton, Byron and other famous men. The narratives are also accompanied by suggested "discussion guides" for teachers, aimed at stimulating lively discussions and debate. But, true to his greater purpose, McGuffey draws the bulk of the content in the Readers from the Bible and its moral admonitions.
As in the final story from the Level 1 Primer which reminds the pupils that:
God sees and knows all things. He sees me when I rise from my bed. He sees me when I go out to work or play, and when I lie down to sleep. If God sees me, and knows all that I do, He must hear what I say. Oh, let me speak no bad words, nor do any bad act; for God does not like bad words or bad acts.
And elsewhere:
All who take care of you and help you were sent by God. He sent His Son to show you His will, and to die for your sake…Never forget, before you leave your room, to thank God for His kindness…. If you are not diligent in the improvement of your time, it is one of the surest evidences that your heart is not right with God.. You are placed in this world to use your time well. In youth you must be preparing for future usefulness. If you do not improve the advantages you enjoy, you sin against your Maker.
While this didacticism fits with America's roots in Christianity, it is tempered in revised additions that become more secular and civil and less theological in nature. But still, for many decades to follow, reading and religious instruction will go hand in glove in primary schools across the nation, thanks to McGuffey.
After ten years at Miami, his conservative brand of Calvinism is out of step with his more reform-minded colleagues and he move on to become president of Cincinnati College, Ohio University and the Woodward Free Grammar School before closing out his career at the University of Virginia, dying there in 1873. Records show that his Readers have sold over 122 million copies and still counting to the present.