John Sutter and the Gold Rush
January 24, 1848: Gold Is Discovered At Sutter's Mill In California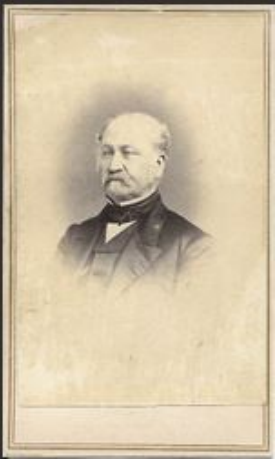 You are there: on this day a carpenter named James Marshall discovers gold nuggets in a run-off stream at Johan Sutter's sawmill northeast of Sacramento.
A debt-ridden Johan Sutter flees Germany in 1834 to start a new life in America. He learns the fur trapping and trading businesses and in 1841 Mexico grants him rights to 41,000 acres of their land along the American River in Alta California. He constructs Fort Sutter there as a town center for his dream of building a Swiss agricultural colony known as "New Helvetia." But to proceed, he needs access to lumber and starts up a sawmill some 30 miles upstream in 1847 on what is now U.S. property after the Mexican War.
James Marshall spots the flecks of gold that will spark the 1849 Gold Rush
When the mill operators report that water is not running fast enough to power the sawblades, Sutter agrees to speed it up by widening the run-off trace. When James Marshall begins the necessary digging, he spots the flecks of gold that will spark the 1849 Gold Rush.
Predictably Sutter tries to contain news of the find in order to confirm his legal rights to the land, but a shady figure named Samuel Brannan quickly buys up all of the mining gear he can find, opens a general store, parades through the street of San Francisco announcing the strike, and becomes a millionaire – after which the Mormon Church expels him for fraudulent use of their tithing funds.
Soon enough John Sutter's world collapses around him. The U.S. government rejects his claim of ownership on his acreage. Squatters arrive in droves both on the gold fields and the land intended for New Helvetia. He briefly tries his own hand at gold mining but fails. In 1849 he sells Ft. Sutter for $7,000 and moves north to Yuba City. He tries for the next thirty years to collect $50,000 from the government for his role in California but never succeeds. He dies of a heart attack in 1880 at age seventy-seven.
To learn more about John Sutter, the Gold Rush and its aftermath, read Chapters 157, 172, 173, 174, 175, 176 and 184.